Texts
In "Playing for All Kinds of Possibilities," a very fun science article in yesterday's New York Times, reporter David Dobbs describes how four-year-olds easily beat grown-ups at Blickets, a game invented by child psychologists Alison Gopnik and David Sobel. There seem to have been many versions of Blickets over the years, each designed to ferret out a different nuance of children's understanding of the world, but in his article Dobbs is describing two that he calls "or" and "and":
The "or" version is easier: When a blicket is placed atop the machine, it will light the machine up whether placed there by itself or with other pieces. It is either a blicket or it isn't; it doesn't depend on the presence of any other object.


In the "and" trial, however, a blicket reveals its blicketness only if both it and another blicket are placed on the machine.
Adults are usually stumped by the "and" version, but it gives children no trouble. Researchers believe that children succeed because they aren't constrained by "prior biases." Children don't have such biases because they simply don't know much about the world yet, and in their effort to understand, they're willing to try out all kinds of wild ideas. As they age, they learn that some kinds of hypotheses are less commonly successful than others, and they become less willing to risk belief in these low-probability hypotheses. They grow up to be adults who lose at Blickets. They learn, Dobbs writes, that "'or' rules apply far more often in actual life, when a thing's essence seldom depends on another object's presence."
This last claim stuck in my head, and this morning I realized why: I'm not sure it's true, at least not about a very important category of thing, namely, people. Suppose, instead of playing Blickets with a rectangle, a triangle, and a bridge, we play Lovers with Rilke, Lou, and Gumby. And suppose, instead of placing clay tokens on top of a Blicket Detector, we play the game by leaving our three contestants alone in a room in pairs, to see if they happen to get busy. Rilke + Gumby = nothing. Lou + Gumby = also a blank. But Rilke + Lou = sonnets! Even adults are able to understand that these facts reveal that Rilke and Lou are Lovers, and that Gumby isn't.
Donald Judd with students, 1974. Photograph: Barbara Quinn/Courtesy Judd Foundation Archives.
There's a shovel attached to the wall on the fifth floor of 101 Spring Street. "Why didn't they keep that downstairs?" asked a recent visitor.
"It's a Duchamp," the guide replied.
It's like that on every floor of the artist Donald Judd's former home and studio. There's a Stuart Davis in the baby's room and a Duchamp bottle rack up in the sleeping loft. A 1967 Frank Stella protractor series painting has pride of place on the fourth floor, used for entertaining, but a drawing by Stella hangs against an (attractively) decaying wall in the stairwell, at home with the African masks. Judd surrounded himself with design that suited his aesthetic as well as his art. The high chair is Thonet. Zigzag chairs by Gerrit Rietveld pulled up to his own table. Czech glassware tucked into the clever, deep well of another table. The first thing Judd saw every morning: a 1969 Dan Flavin neon sculpture, chasséing the length of the room, tubes of red and blue light framing his western view.
The exterior of 101 Spring Street, 1972. Photograph: Paul Katz/Courtesy Judd Foundation Archives.
Museum-quality art, museum-quality design, and the detritus of domestic life occupy all five floors of the former garment factory, now the only single-occupancy building in all of SoHo. After a three-year, twenty-three-million-dollar restoration process led by the New York-based Architecture Research Office, the building will open for guided tours in June, offering an opportunity to see Judd's work as he intended it to be seen, and to dwell, for an hour or so, in an individual vision of life as a work of art.
The Choco Pie is a mouth-drying, individually wrapped slab of cake, marshmallow and chocolate, and in South Korea it is as important a part of childhood as Britain's Mars bar or the American Twinkie. It is manufactured by the Orion company of Seoul, exported across Asia, and consumed in an arc of countries from Japan to Uzbekistan. In 2004, South Korean manufacturers began to set up factories in the North Korean city of Kaesong, an unprecedented experiment in co-operation between the fraternal enemies, and the core of what the South Korean government called its Sunshine Policy. Along with South Korean managers, manufacturing technology, telephone lines and a motorway, they brought the Choco Pie.
Within a few months, the bosses from Seoul began slipping their North Korean workers a Choco Pie or two as a perk. In part, this was a response to the Kaesong wage regime: rather than being paid directly, salaries were processed by the North Korean authorities, which then handed over the money minus hefty deductions. The Choco Pies were a small piece of South Korean largesse, but it was difficult at first to know how enthusiastically they were being received. The fact that Orion wrappers were nowhere to be found in the rubbish bins of Kaesong might have suggested indifference, but the opposite was true: the local workers, most of them women, had quickly realised that the Choco Pies were too delicious and valuable to eat. Kaesong employees, the best paid in North Korea and among the worst paid in Asia, were hoarding their pies, and selling them on at remarkably inflated prices: as high as the equivalent of $10 a piece, a large proportion of their monthly take home pay. The cakes found their way onto the black market in Pyongyang; corrupt soldiers in Kaesong, who routinely exacted 'fines' from the South Korean managers, began to accept, and sometimes require, payment in chocolate and marshmallow. By some estimates, 150,000 Choco Pies were being dispensed in Kaesong every day.
Stripped of its cuteness, the story contains two lessons. The first is a reminder of what should be obvious: ordinary North Koreans are in most ways just like everyone else. For all their affected concern for human rights, this is overlooked with depressing frequency by people who should know better. North Koreans are not a 'zombie nation' (Martin Amis), an undifferentiated mass of 'racist dwarfs' (Christopher Hitchens), but 24 million individuals, as virtuous and vicious as the rest of us, and just as keen on sweet and sticky snacks.
Two men who defined post-Soviet Russia died within eight days of each other last month, both suddenly and far from home. On 16 March the body of Vladislav Mamyshev was found floating in a swimming pool in Bali. His death was blamed on a heart attack. He was 43. Better known as Vladik Monroe, Mamyshev was a pioneer of performance art in Russia, his status that of a sort of post-Soviet Warhol crossed with RuPaul. In the late 1980s he had hung out with the St Petersburg art group Pop Mechanika, who were famous for such stunts as going on TV to argue that Lenin was a mushroom, using the language and pseudo-logic of Soviet history programmes – at the time an unthinkable provocation. Mamyshev went on screen himself soon afterwards, impersonating Marilyn Monroe in a sketch called 'The Death of Wonderful People', and over the next decade he impersonated Russian pop stars, Hitler and Gorbachev (in the guise of an Indian woman); he turned up at parties as Yeltsin, Tutunkhamun or Karl Lagerfeld. It might be hard for non-Russians to understand why his work was felt to be so important, but in the post-Soviet world, where all the old roles and archetypes had disappeared, where no one knew how to behave and everyone seemed to be constantly trying on new poses, hysterically switching ideologies in a blistering progression from communism to perestroika to liberalism to nationalism to mafia state to postmodern dictatorship, the term 'performance' (a new Anglicism) became a buzzword and performance artists stars. No party was complete if Mamyshev or one of his fellow artists wasn't there: Oleg Kulik, who impersonated a rabid dog to represent the brokenness of post-Soviet man; Andrei Barteniev, who appeared as an alien to demonstrate the weirdness of this new world; or German Vinogradov, who walked naked into the street and poured iced water over himself.
I first met Mamyshev in the mid-noughties. Hyper-camp and always trying on new ideas, he was just planning his next role: Putin. 'When I became Putin,' he later told a magazine, 'I felt myself become a totemic maggot, about to explode with shit. But I wasn't the baddie, I was the janitor who needed to eat everything up, Russia, the USSR, so the new life could begin … Putin will eat up our country. One day we will reach into the cupboard for our clothes and they will turn to dust in our hands because they have been eaten by maggots.' As Russian politics became more unreal, an absurd theatre of fake elections, fake political parties and fake media, so Monroe's work became more political. In 2010, a year before protesters took to the streets, he signed a letter asking Putin to leave: 'It is time,' he wrote, 'to save millions of people from this simulacrum' – the performance artist was accusing the political leadership of becoming a pure performance itself. He had been outdone. Mamyshev was now spending more and more time in South-East Asia. What place could he have in a Russia where to watch a grotesque piece of performance art you just had to switch on the news?
As the shock of Mamyshev-Monroe's death was sinking in, and Moscow's art critics were writing their obituaries for the 'end of an era', the news came on 23 March that Boris Berezovsky had died. He had been the original oligarch, the 1990s 'Godfather of the Kremlin' who claimed to be able to make or break presidents, start and stop wars, who had put Putin on the Russian throne before being banished by his protégé to spend his final 13 years as an exile in London telling the world he was using all the means at his disposal to unseat the man he had made king. With Berezovsky truth was always indivisible from fiction. 'You would never know when he was bullshitting,' a Duma deputy recently told me. 'I remember in the 1990s he told us a Communist coup was in the offing and we needed to start building a reserve capital city in Perm to retreat to. We had no idea whether it was real or not but we started to plan for it anyway.' Berezovsky had nearly been 'killed' before, the target of assassination plots both real (a car bomb decapitated his driver) and outlandish (he told an English court the KGB wanted to poison him with a pen). I was in Moscow the day he died, and it was a tribute to his Metternich-like reputation that people asked: 'What new stunt is this? Why did he do it? Was he killed? Was it the Kremlin? Did he fake his death?' Even the name the body was officially identified as belonging to wasn't his own: since being granted British citizenship the name on Berezovsky's passport was Platon Elenin, after the hero of a film, Oligarch, based on his life, in which the oligarch Elenin fakes his own death to take revenge on a Kremlin out to destroy him. Over the next 24 hours the truth started to filter through as his friends in London gave interviews and the police released information: Berezovsky had been found in a locked bathroom, in the Surrey mansion that had once belonged to him but was now his ex-wife's, with a scarf hanging from the bathroom rail and marks 'consistent with hanging' on his neck. Over the past year he had been clinically depressed, had lost his fortune, had been in and out of the Priory, and had understood that nothing would ever change in Russia, that Putinism was for ever.
Since his exile from Russia, Berezovsky had been the ultimate bogeyman in the Kremlin narrative, hauled out whenever the Kremlin wanted to pin the blame on someone or distract from internal problems. Earlier this year Channel One showed a documentary that accused him, inter alia, of being responsible for the poisoning of his friend Alexander Litvinenko, planning to murder the mayor of Moscow, organising the kidnapping of a Duma deputy and funding Chechen terror attacks. After his death I expected more vitriol. Instead the reaction was stunned, mournful. Putin's spokesman, Dmitry Peskov, set the tone when he said that the death of any person is a tragedy. Eduard Limonov, a former dissident émigré writer who has transformed himself into the leader of the National Bolsheviks, a movement that started as an art project and became an anti-oligarch revolutionary party mixing Trotskyism and Fascism, said: 'I had always admired him … he was great, like a Shakespeare character.' Vladimir Zhirinovsky, the ultra-nationalist scarecrow used by the Kremlin to frighten voters, who normally spits and scowls when he speaks of Russia's enemies, sounded almost tender: 'I'd seen him a few months ago in Israel. He was tired, disillusioned.' People usually banned from TV, like Akhmed Zakayev, the Chechen leader in exile, were allowed to pay their respects on air. It was as if the vast charade of Russian politics had suddenly paused and all the actors turned to the audience to applaud a missing player.
… It might seem that Bitcoin is just like a fiat currency issued by governments. Writing in the Wall Street Journal, Jack Hough says precisely that it's a purely online currency with no intrinsic value; its worth is based solely on the willingness of holders and merchants to accept it in trade. In that respect, it's not so different from fiat currencies like the dollar or Euro, but whereas governments back such money, Bitcoins lack central control. But this is a misunderstanding of what money does and where it came from. The "fiat" (meaning "let there be") in "fiat money" reflects the power of governments to command and tax. Because of their power to tax, governments can make money by fiat, simply by declaring their willingness to accept that money in repayment of tax debts.
Historically, money arose from, and in conjunction with, this power. (This point has been made repeatedly over the years, most recently in David Graeber's controversial Debt: The First 5000 Years, a surprise publishing hit for an anthropologist. )
By contrast, Bitcoin looks more like the "just so" story, commonly told in economics textbooks, in which money arises to simplify what would otherwise be complex and cumbersome barter transactions.
That would be fine if Bitcoin were simply a unit of account, used to keep track of transactions. But all the interest in Bitcoin is in the idea that it is a store of value, one that may be expected to show steady appreciation rather than depreciation. So Bitcoin needs to be evaluated as a financial asset.
Viewed in this way, Bitcoin is perhaps the finest example of a pure bubble. It beats the classic historical example, produced during the 18th century South Sea Bubble of "a company for carrying out an undertaking of great advantage, but nobody to know what it is." After all, the promoter of this enterprise might, in principle, have had a genuine secret plan. Bitcoin also outmatches Ponzi schemes, which rely on the claim that the issuer is undertaking some kind of financial arbitrage (the original Ponzi scheme was supposed to involve postal orders). The closest parallel is the fictitious dotcom company imagined in Garry Trudeau's Doonesbury, whose only product was its own stock.
As with any kind of asset used as currency, from gold to tobacco to U.S. dollars, Bitcoin is valuable as long as people are willing to accept it. But in all of these examples, willingness to hold the asset depends on the fact that it has value independent of that willingness. Tobacco can be smoked or chewed, gold can be used to fill teeth or make jewellery, and U.S. dollars can be used to meet obligations to the U.S. government.
This independent value is not fixed and stable. If people give up smoking, or wearing gold jewellery, or if the United States experiences inflation, the external value of these currencies will decline.
But in the case of Bitcoin, there is no source of value whatsoever. The computing power used to mine the Bitcoin is gone once the run has finished and cannot be reused for a more productive purpose. If Bitcoins cease to be accepted in payment for goods and services, their value will be precisely zero.
According to the efficient-markets hypothesis (EMH), which still dominates the analysis of financial markets, this should be impossible. The EMH states that the market value of an asset is equal to the best available estimate of the value of the services or income flows it will generate. In the case of a company stock, this is the discounted value of future earnings. Since Bitcoins do not generate any actual earnings, they must appreciate in value to ensure that people are willing to hold them. But an endless appreciation, with no flow of earnings or liquidation value, is precisely the kind of bubble the EMH says can't happen […]
---
Comment by mrajanov, on April 17, 2013 — 5:13am:
This thing called Bitcoins is a non-entity in most practical senses. It is poorly designed and, in any case, even if it were designed soundly it would face serious threats from systemic actors with whom it competes.
Having said that, there are a few inaccuracies and technical errors here—
But in the case of Bitcoin, there is no source of value whatsoever. The computing power used to mine the Bitcoin is gone once the run has finished and cannot be reused for a more productive purpose. If Bitcoins cease to be accepted in payment for goods and services, their value will be precisely zero.
It can be shown that these sentiments are incorrect in that they are expressed in absolute terms. The value of Bitcoins could be zero in the scenario above, but this is not necessarily so. This is because it is a matter of market and social practice rather than economic theory.
For example, even putting aside that gold can be used in fillings, computers, wedding rings… et cetera, it has a conceptually distinct value relating to the special status that the market and society have given it in acting as a store of value, an instument of psychological comfort if you will. There is an implicit guarantee (a poor, but effective, term in this instance) that gold can be sold to someone else at some price in recognition of the uncertanties of a complex economic world and the psychological comfort that is consequently sought. There is no explicit guarantee. Whatsoever. It is simply that society (the "market" in some sense) has given it this role, accepted it, to the point where it will endure for the foreseeable future. It is not efficient — but it is reality. The below sentiments are spot on in that sense (especially in relation to gold once the distractions of tooth fillings and such are removed)—
they represent the sharpest ever refutation of the efficient-markets hypothesis.
If society, the market, were to consider Bitcoins as a better tool for the role (say it's more compact, transportable, exchangeable, reliable, secure, non-perishable.. whatever attributes may be considered relevant at that time), then it is possible that Bitcoins could take on the role that society has currently bestowed on gold.
Because of Bitcoins's technical and structural defects this is not likely but it is conceptually possible and therefore the absolutist statements above are inaccurate.
There is no economic reality outside our own thoughts and behaviour. There is no economic system outside the one we create.
At this stage of our evolutionary process, anyway.
Together, riding a Benelli—they were everywhere then—we attempted to visit all the baths in Mexico City, guided by an absolute eagerness that was a combination of love and play. We never succeeded. On the contrary, as we advanced the abyss opened up around us, the great black scenography of public baths. Just as the hidden face of other cities is in theatres, parks, docks, beaches, labyrinths, churches, brothels, bars, cheap cinemas, old buildings, even supermarkets, the hidden face of Mexico City could be found in the enormous web of public baths, legal, semilegal, and clandestine. Setting our course was simple at first: I asked the boy at Montezuma's Gym to point me in the direction of some cheap baths. I got five cards and wrote the addresses of a dozen establishments on a piece of paper. These were the first. From them, our search branched off countless times. The schedules varied as much as the buildings did. We arrived at some at 10 A.M. and left at lunchtime. These, as a rule, were bright places with flaking walls, where we could sometimes hear the laughter of teen-agers and the coughing of lost and lonely men, the same men who, a little while later, having collected themselves, would get up and sing boleros. The essence of those places seemed to be limbo, a dead child's closed eyes. They weren't very clean, or maybe the cleaning was done later in the day. At others, we'd make our appearance at four or five in the afternoon and wouldn't leave until dark. That was our most common schedule. The baths at that hour seemed to enjoy, or suffer from, a permanent shadow. That is, a trick shadow, a dome or a palm tree, the closest thing to a marsupial's pouch; at first you're grateful for it, but it ends up weighing more than a tombstone.
As a student of law in his father's footsteps, first in Bonn and then in Berlin, the bohemian young Marx was something of a brawler and boozer. He was, however, just about socially respectable enough to marry Jenny von Westphalen, daughter of a distinguished, aristocratic Prussian family. The pairing looked incongruous to some of their friends, with Marx, a hairy, swarthy commoner of suspiciously Semitic provenance, playing the Beast to Jenny's Teutonic Beauty. He was always rather foolishly proud of his wife's high-class origins, though Sperber suspects that the Westphalens' nobility was somewhat specious. That Jenny was four years older was another scandalous feature of the marriage. As Sperber comments, the union "violated accepted norms of masculinity and of relations between the sexes." Being younger than your wife was thought at the time to be shamefully emasculating, rather like being less educated than your valet. Judging from an enigmatic letter sent by Jenny to Karl, the couple also seem to have engaged in premarital sex, which was common enough then among the rural and urban masses but "virtually inconceivable behavior for the very proper daughter of a high Prussian state official from a straitlaced provincial city." Nonconformism clearly began at home, as it did with Marx's later collaborator Friedrich Engels, who took a working-class woman as his mistress. (The fact that she was of Irish origin suggests a marvelously convenient combination of class sympathies and anticolonialist ones.)
The young Marx began his career by securing a post at a radical newspaper in Germany. Journalism was to provide him for the rest of his days with a suitable alternative to academia on the one hand and street-fighting militancy on the other. Still, it took some time for this Young Hegelian to become a fully paid-up Marxist. Five years before he wrote the Communist Manifesto, he could be found "advocating the use of the army to suppress a communist workers' uprising." Communist ideas, he wrote, were genuinely dangerous and could "defeat our intelligence, conquer our sentiments." It is as though Darwin had voiced his belief in Adam and Eve on the very brink of publishing On the Origin of Species. Having become a Marxist, Marx then famously denied that he was one.
For most of Marx's life, much of his and Jenny's time was devoted to keeping irate creditors from the door. He once commented that nobody had ever written so much about money while possessing so little. His poverty, to be sure, was of a suitably genteel kind. As Sperber notes, "except on one disastrous occasion, he never proposed that Jenny keep house for him." Besides, there was always a slatternly servant or two to be hired. The couple could even rustle up the odd governess for their growing brood. But Marx's knowledge of material scarcity was a good deal more than theoretical. It was a matter of when the butcher was to be paid, not just of the contradictions of capitalism. Three of his children died at birth or in infancy, in tiny apartments and slum neighborhoods. When his daughter Franziska joined this grim company, we are told he "had to spend the day of [her] funeral running around, seeking money to pay the undertaker." It was capitalism that finally rode to his financial rescue in the shape of Engels, philandering son of a Manchester factory owner, who in the days before registered letters existed would cut banknotes in half and send them to his needy colleague in separate envelopes. During his time in England, Marx was also kept afloat by his articles for the New York Tribune, then the leading newspaper in the United States.
Mr. Hell's intellectual progress consisted of defining himself as against, rather than for, things. He scorned the Beats and their "insistence on spontaneity." ("I'll be spontaneous when I feel like it," he says.) Hippies were too soft. Rock music peaked in the 1950s, he decides, "before the Beatles homogenized and corrupted everything."
His band with Mr. Verlaine was a reaction against the downtown music scene. "We wanted to strip everything down further, away from the showbiz theatricality of the glitter bands, and away from bluesiness and boogie," he declares. "We wanted to be stark and hard and torn up, the way the world was."
His worldview led to philosophical vexations. "If your message is that you don't care about things," he asks, "how can it be delivered?"
The split with Mr. Verlaine was ugly. We read about Mr. Verlaine's "coldness and egotism" and about what Mr. Hell calls his "globally sour" demeanor. One of the final straws, Mr. Hell reports, was when Mr. Verlaine "told me not to move around onstage while he sang."
There is a great deal of sex in this book, some of it dire, some of it quite funny. When Mr. Hell had a fling with Patty Oldenburg, who was then separated from the pop artist Claes Oldenburg, their sex was so ferocious, Mr. Hell says, that the painter Larry Rivers, living in the loft upstairs, drilled a hole through the ceiling to watch. His nickname for Mr. Hell was "Tarzan."
The good writing in "I Dreamed I Was a Very Clean Tramp" (the title comes from a snippet of Mr. Hell's childhood prose) can jostle against the bad or merely inexplicable. One young woman has large breasts that "looked like twin Eeyores." About the first Central Park Be-In in 1967, he writes: " 'Be-In' makes me think 'doughnut,' internal doughnut. The DNA of humankind as stale crullers."
The verdict that genes matter, but so does environment, seems obvious. That might, as Segal argues, be because of our increasing acceptance of genetic explanations of behaviour – brought about in no small part by Mistra itself – or it might be the effect of attempting to weigh the contributions of two already overdetermined quantities, genetics and environment, to another overdetermined quantity, general behaviour. Indeed, one comes away from Born Together – Reared Apart with the impression that the flexibility of genes as go-to causal mechanisms for almost any particular individual behaviour impeaches rather than reinforces their explanatory power. With a little creativity, a just-so story can link seemingly any behaviour to genes, provided one doesn't have to specify the genes in question, or think too closely about the behaviour. For instance, Segal presents the case of two identical twins, both 'extremely talented in mathematics'. One of them, raised in China with little education, found work as a cashier; the other, raised in the US, 'obtained an advanced science degree'. Segal treats this as evidence of identical genes expressing themselves in the face of different environmental circumstances, but the explanation raises more questions than it answers. Does one use the same 'quantitative skills' as a cashier and as a scientist? What, precisely, are the cognitive processes involved in 'mathematics'? For that matter, what conditions (meritocratic, bureaucratic, personal etc) affect job selection in China as against the US, and how is the expression of genes for mathematical ability affected by them? From this and other examples of ostensibly genetically driven twin behaviour, one is left with the impression that we wouldn't be much worse off assigning personal differences in behaviour to the levels of cheerfulness factor in germ plasm.
There is further cause for concern. Mistra's inventories encoded a surprising array of complex, highly individuated behaviours by means of standardised, uni-dimensional measures. For instance, fascinating as it is to learn that a vague, complicated and subjective trait such as 'conservatism' is genetic in origin, it's even more interesting to learn that there's a psychological metric – the 'Wilson Patterson Conservatism Scale' – that Mistra researchers used to measure it. But what, precisely, is it that the conservatism scale measures, and why should we take Wilson and Patterson's version of conservatism as the official definition? The psychologist Barrie Stacey wrote in 1978 that the W-P conservatism scale appears to have 'three major components – blimpish religiosity, racialism and a rather prurient sexuality'. These, in his view, 'add up to a greatly constricted view of conservatism'. Whose conservatism is the one reflected in our genes: Wilson and Patterson's? Stacey's? Both? Neither? Segal's circular explanation, that the conservatism scale captured a subject's conservatism, does little to clarify the matter. The same can be said of numerous other Mistra measures, including religiosity, creativity, leisure time activity, intelligence and mathematical skill: these are not natural kinds, but social kinds – social values which we identify by names (like 'conservatism') for convenience in colloquial conversation. Segal dismisses such concerns with a terse note that the 'intelligence tests, personality inventories and most of the interest questionnaires that were administered had been used widely in prior research. The reliability and validity of these instruments had been well established.' Perhaps, but when what's at stake is the cause of human behaviour, and therefore the extent of biological influence on such social issues as education reform, economic inequality, unemployment, crime and sexuality, one could wish for closer scrutiny of the means used to demonstrate that genes 'explain' behaviour.
When I first met Richard Serra in 1994 or so, we talked a lot about the Internet. Soon after, I began trying to imagine what a Richard Serra web project would look like. Given the way his sculptures rather definitively reconfigured the space they inhabited, I envisioned a Serra site as a single, massive, interlaced GIF, that rendered in your browser with excruciating, megalithic slowness, controlling time and processing power as well as screenspace.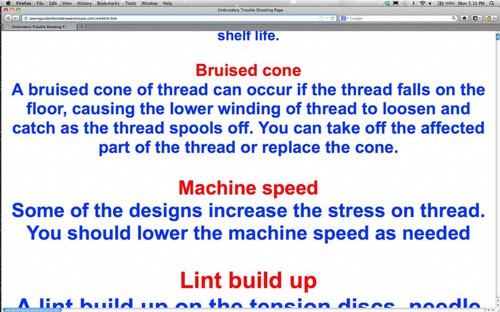 I mention this now because I think that, after my nearly 20 years online, the Embroidery Trouble Shooting Guide page at sewingandembroiderywarehouse.com comes closest to Serra's work in terms of its spare, dauntless power.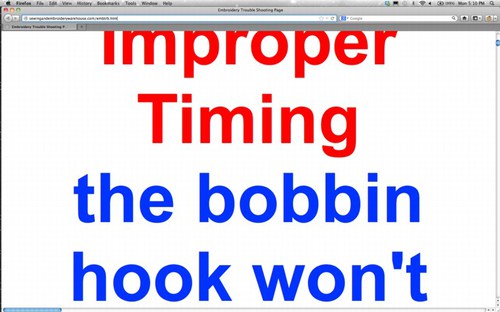 ETSG is created in Microsoft FrontPage. None of the HTML headings tags are closed, so the text, as Rob at boingboing puts it, grows "inexorably in size until the greatest website in the world is achieved…"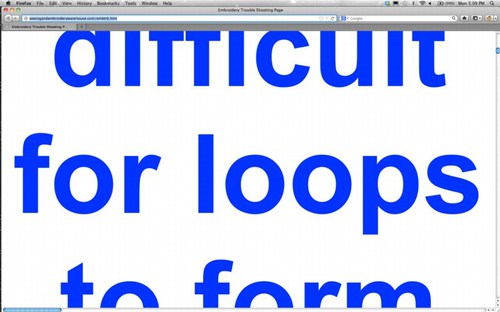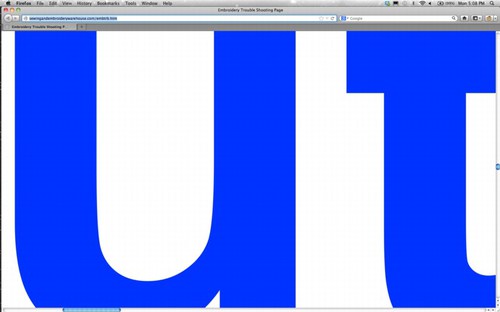 But of course, it's all unintentional, even unnoticed. Apparently, the SEW folks say the page renders just fine in Internet Explorer.