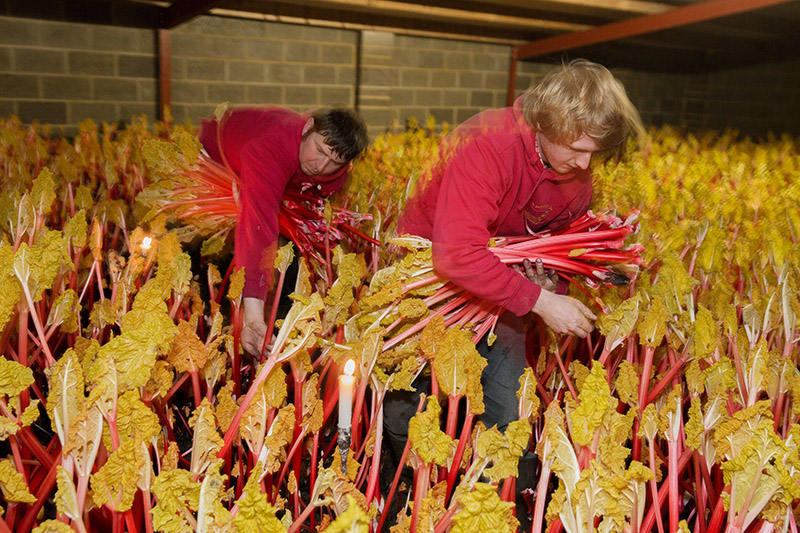 IMAGE: Forced rhubarb is grown in the dark and harvested by candelight, resulting in stalks that are more slender and tender. (In the dark, the stalks grow so fast that you can hear them squeak and pop.) Photograph by Martin Parr/Magnum, via The New Republic.
During and after the war, [Piaf's] myth shifted again. Her collaboration with Asso was at an end and she started to work with new lyricists, notably Henri Contet and Michel Emer, whose style departed from the realist tradition. She read hundreds of songs before finding one that suited her persona, and even then, she worked for days with the composers and lyricists until every element in a song matched her character. 'What we write for her is babble,' Contet once said; 'she turns it into cries, pleas and prayers.' In No Regrets: The Life of Edith Piaf, Carolyn Burke describes Piaf's working methods, sitting for hours at the grand piano, stopping only to eat steak covered with garlic and to drink mint sirop. Her composer Marguerite Monnot would arrive on a motorbike in the afternoons and they worked together for hours. Much as she respected Monnot, Piaf never allowed a composer complete control over the music, humming or playing until a tune felt right to her. As Looseley writes, 'increasingly, the narrator-in-chief of the imagined Piaf was Piaf herself.'
Erykah Badu has spent much of the past few months working on the music for "Legends of Chamberlain Heights," an animated series scheduled to make its début on Comedy Central this fall. She had a personal reason to take the job: one of the consulting producers of the show is Carl Jones, a former producer of "The Boondocks," whom Badu is currently dating. "I had to interview alongside all these other composers," she says. "Talked all kinds of shit. 'Deadlines? No problem!' " But the network had every reason to hire her. Instead of paying exorbitant fees to license old recordings, it could simply hire a Grammy-winning, chart-topping singer to make some new ones.
So it was that Badu showed up, one afternoon, at a low-slung house in Dallas belonging to her friend Richard Escobedo, a producer also known as Picnictyme. She had invited a local keyboard player to come along; together, they were scheduled to record half a dozen snippets of music, each meant to evoke a specific mood—or, in some cases, a specific record that the producers didn't want to pay for. The session was loose and laid-back, and Badu couldn't help getting inspired to make each snippet better than it needed to be. As a rough cut of the cartoon played on the computer monitor for reference, Badu grew more interested in the beat, an old-fashioned hip-hop boom-bap, padded with a slouchy bass line. It reminded her of "My Block," a classic track by the Houston rapper Scarface, so she FaceTimed him. He looked delighted to hear from her. "Get yo' soup-can ass off my phone," he exclaimed.
"Get yo' gator-mouth ass off my phone," she replied.
Unknown designer, c. 1966
From 216 words expressing well-being, happiness, and pleasure that were collected by Tim Lomas, a lecturer at the University of East London. Lomas's paper "Towards a Positive Cross-cultural Lexicography" was published in January in The Journal of Positive Psychology.
Cafuné (Portuguese): to tenderly run one's fingers through a loved one's hair.
Gigil (Tagalog): the irresistible urge to pinch someone because they are loved.
Queesting (Dutch): to allow a lover access to one's bed for chitchat.
Mbuki-mvuki (Bantu): to shed clothes and dance uninhibited.
Tyvsmake (Norwegian): to taste small pieces of food when nobody is watching.
Sobremesa (Spanish): when the food has finished but the conversation is still flowing.
Sólarfrí (Icelandic): when workers are granted unexpected time off to enjoy a sunny day.
Peiskos (Norwegian): to sit in front of a crackling fireplace and enjoy the warmth.
Gökotta (Swedish): to wake up early to hear the first birds sing.
Kukelure (Norwegian): to just sit and think about things while doing nothing at all.
Max Lamb
P-Levis said: [January 30th, 2016 at 9:07 am]
Jean Dubuffet on Young Thug:
Our culture is based on complete trust in language (particularly written language) and on a belief in its capacity to translate and elaborate thought. Now this strikes me as a mistake. Language, I find, is a gross, extremely gross stenography, a system of highly rudimentary algebraic signs, damaging rather than serving thought. The spoken word, more concrete than writing, animated by the timbre and intonation of the voice, a bit of coughing, some grimaces, a whole range of mimicry, seems a lot more effective.
Daniel Soar on @, 28 May 2009
The 'at' sign, @, which fancy typographers refer to by its French name,
arobase
, is a once unremarked but now central glyph that rewards closer examination. Many claims are made about its genesis, among them that it began circulation in 16th-century Florence as a symbol for the
anfora
, a unit of commercial measurement then in currency. A few years ago,
La Repubblica
published a photograph of a curlicue on a 1536 manuscript to prove it. But the French wouldn't have got their
arobase
if they hadn't derived it not from Italy but from the Spanish and Portuguese term,
arroba
, which was originally also a unit of measurement, in use from the 11th century onwards. And Italian traders wouldn't have been dealing in @s in 1536 if they weren't, as it turns out when you look at the Florentine manuscript, interested in
arrobas
of South American wine arriving in Europe by way of Seville. There's a theory that the
arroba
was itself derived from the Arabic for a quart,
ar-rub
, but predictably this doesn't get much airtime on the Latinate internet. Popular etymology in France declares that
arobase
is actually a contraction of the phrase 'à rond bas', where 'bas' stands for 'bas-de-casse', a bit of printing terminology that refers to lower-case letters, and that it's somehow therefore related to the word 'arabesque'. This legerdemain is clearly nonsense but it's no less crazy than the various cutesy attempts by languages across the world to naturalise the sign by making it an animal emblem ...
---
I was surprised by Daniel Soar's inability to see why the Russians call the @ 'a dog' (LRB, 28 May). It's a sleeping dog with its tail curled around itself, isn't it?
James Watt
Oxford
Daniel Soar notes that in modern Spanish email usage the symbol @ is called an arroba. Arroba beyond any reasonable doubt comes from the Arabic rub, but this does not mean a quart, as Soar writes, but a quarter (of a hundredweight, qintar).
Pat Harvey
Oxford
---
Polite Russians will sometimes soften @ to sobachka, 'little dog' (Letters, 11 June). So Chekhov's short story 'Dama s sobachkoi', sometimes translated as 'Lady with a Lapdog', might now be thought of as 'lady with email', or perhaps 'lady with a laptop'. The lovely and too little known Belarusian language calls @ slimak, or 'snail'. Thus email is also snail mail in this part of the world.
Nigel Gould-Davies
Minsk, Belarus
---
The 'little dog' and 'snail' verbalisations of @ in Russian and Belarusian are delightful (Letters, 9 July). In Dutch @ is an apenstaartje or 'monkey's tail'. Incidentally, the 'orphan' (as in the 'widow and orphan' of modern typesetting) is known in Dutch as a hoerenjongetje, or 'boy prostitute'.
Richard Todd
Leiden
---
Vol. 31 No. 15 · 6 August 2009
In Greece @ is a papi: 'a duck' (Letters, 23 July). And the ubiquitous Honda 50 is a papaki: 'a little duck'. Real ducks are quite rare in Greece, hence perhaps confusion about what they look like.
Simon Darragh
Walmer, Kent
---
Vol. 31 No. 16 · 27 August 2009
The delicious Israeli version of @ is strudel: the rolled-up Viennese apple tart served (with a dollop of vanilla ice cream) in the coffee shops on Tel Aviv's Ben Yehuda 'Strasse', by the descendants of the German and Austrian immigrants who came here in the 1930s (Letters, 9 July and Letters, 23 July, Letters, 6 August).
Raymond Aronson
Tel Aviv
The Hungarian addition to the menagerie conjured up by the @ symbol is kukac, meaning 'grub' or 'maggot'.
Les Filotas
Ottawa, Canada
The symbol @ is called snabel-a by Swedish speakers in Sweden and Finland. Snabel is the Swedish word for 'elephant's trunk'.
Evert Vedung
Uppsala, Sweden