Scrapbook
In "Playing for All Kinds of Possibilities," a very fun science article in yesterday's New York Times, reporter David Dobbs describes how four-year-olds easily beat grown-ups at Blickets, a game invented by child psychologists Alison Gopnik and David Sobel. There seem to have been many versions of Blickets over the years, each designed to ferret out a different nuance of children's understanding of the world, but in his article Dobbs is describing two that he calls "or" and "and":
The "or" version is easier: When a blicket is placed atop the machine, it will light the machine up whether placed there by itself or with other pieces. It is either a blicket or it isn't; it doesn't depend on the presence of any other object.


In the "and" trial, however, a blicket reveals its blicketness only if both it and another blicket are placed on the machine.
Adults are usually stumped by the "and" version, but it gives children no trouble. Researchers believe that children succeed because they aren't constrained by "prior biases." Children don't have such biases because they simply don't know much about the world yet, and in their effort to understand, they're willing to try out all kinds of wild ideas. As they age, they learn that some kinds of hypotheses are less commonly successful than others, and they become less willing to risk belief in these low-probability hypotheses. They grow up to be adults who lose at Blickets. They learn, Dobbs writes, that "'or' rules apply far more often in actual life, when a thing's essence seldom depends on another object's presence."
This last claim stuck in my head, and this morning I realized why: I'm not sure it's true, at least not about a very important category of thing, namely, people. Suppose, instead of playing Blickets with a rectangle, a triangle, and a bridge, we play Lovers with Rilke, Lou, and Gumby. And suppose, instead of placing clay tokens on top of a Blicket Detector, we play the game by leaving our three contestants alone in a room in pairs, to see if they happen to get busy. Rilke + Gumby = nothing. Lou + Gumby = also a blank. But Rilke + Lou = sonnets! Even adults are able to understand that these facts reveal that Rilke and Lou are Lovers, and that Gumby isn't.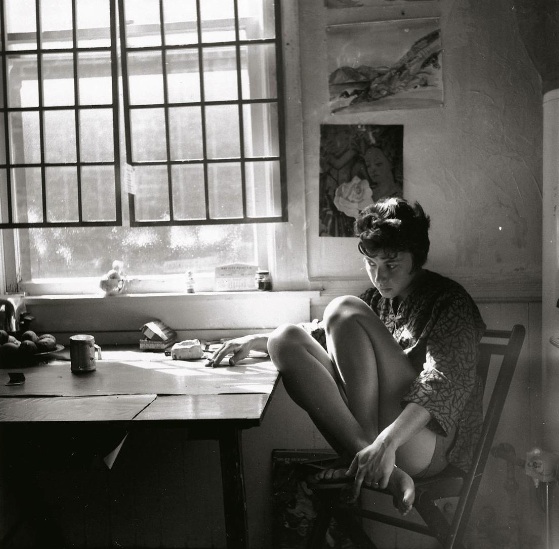 Jay DeFeo, ca. 1960. Photo via The Whitney Museum of American Art
"I was going into a slump during Ironman. I found out I was a diabetic around that time, and I was just stressed out. My mind wasn't all the way there. Certain joints I couldn't really catch. Like the one I had Masta Killa and Deck and RZA and them on, 'Assassination Day.' I couldn't catch it. I let it live, but like, 'Fuck it, I'll back out of that one,' and kept it moving.
"To me, Ironman is dark. 'After The Smoke Is Clear,' and the last couple songs at the end. Even the Mary joint. It's down. Even 'Assassination Day.' They're dark. And I was mad as a motherfucker, but I couldn't do nothing about it after it was wrapped up. They were like, 'Yo put it out there.' Then Nas came with I Am… after that, and he had nice, colorful joints. But it was what it was."
On Supreme Clientele: "I went to jail. But before that, it was just one of those times. I was still Ghost, even though Ironman wasn't really to where I wanted it to be lyrically. Like I said, to me, Ironman is kinda dark. I had went with RZA to Ohio to work on the album, we had some land over there. There was really nothing on that land. I felt like I fucked up on that one.
"But when you hear Supreme, it's more colorful. It's like a box of crayons, or a nice fruit bowl. It just looks colorful. When I did Supreme, I was like, 'I'm coming back,' especially with beats first. So I went to Juju [from The Beatnuts], my man Haas from Staten Island, RZA, you know, different motherfuckers. I had 'Nutmeg' from my barber. That's my man. My old barber made 'Nutmeg.'
"'Mighty Healthy' was crazy. 'We Made It' was crazy. Even 'Stay True.' 'We in the fields with heat.' That's my most colorful album, and it's up there with my favorites. I don't listen to my albums no more. I just do it, then I let it go."
"I was doing that Hip-Hop Squares shit, and Fat Joe and Khaled were up there, and they were telling me how them niggas had used my voice and the beat from 'Mighty Healthy' and how Kanye had put it on 'New God Flow.' They said the shit was crazy, shit was bangin'. So I'm like, 'Word?' And they're like, 'You gotta hear this shit.'
"So after a while, I heard the shit, and you know, it was aiight. I didn't really go crazy for it and stuff like that, though, probably because I heard the beat so many times. But they flipped it, though. Sometimes, when you hear a song the first time, you gotta hear it more and more before you be like, 'Oh shit.' Especially on the radio.
"So I fucked around and just took the initiative to do it myself, 'cause my voice was on it. So I took it and was like, 'You know what? Let me just get some of that real quick.' So I tackled that shit, and did it.
"When it came out, I been did that, like two, three months ago. 'Cause Kanye was busy doing whatever he was doing. I could've put it out myself, but something said, 'Nah, just give it to him.' Because more than likely, he'd make it like a remix, which he did. And it would be more powerful, instead of me just putting it out myself.
"So yeah, I did it myself, and just sent it to Kanye. And two or three months later, it was out, like, 'Aiight, cool.' And that was it, though. I never even spoke to him when I sent it or after it was released. But I appreciate it. He fucked around and made a movie out of it, and got it out there. It was cool"
… "I still ain't back. I ain't never go nowhere, but I'm not back to where I'm comfortable and in there like that. A lot of these rappers that niggas look up to, I'll dart 'em out. Early. And get the belt back overnight. When you're not getting that play on radio, and you're not around, they forget. Until they be like, 'That was that nigga that brought the eagles out and the robes and the Wallabees and all that other shit.' Watch what happens in the next couple weeks. It's on."
Neil Irwin's The Alchemists gives us a time and a place at which the major advanced countries abruptly pivoted from stimulus to austerity. The time was early February 2010; the place, somewhat bizarrely, was the remote Canadian Arctic settlement of Iqaluit, where the Group of Seven finance ministers held one of their regularly scheduled summits. Sometimes (often) such summits are little more than ceremonial occasions, and there was plenty of ceremony at this one too, including raw seal meat served at the last dinner (the foreign visitors all declined). But this time something substantive happened. "In the isolation of the Canadian wilderness," Irwin writes, "the leaders of the world economy collectively agreed that their great challenge had shifted. The economy seemed to be healing; it was time for them to turn their attention away from boosting growth. No more stimulus."
I have often tried here on Language Log, in playful or polemical ways, to critique naive lexical strong Whorfianism, which seems to take up most of the discussion of language that you find among the general public…
Naive lexical global Whorfianism comes in two flavors. One, the world-to-word flavor, says that when a nation or tribe becomes enormously interested in some new activity or concept they feel impelled to make a new word to denote it. The other, the word-to-world flavor, says that we can't form a concept if we don't have a word to serve as the name for it. For real enthusiasts of the word-to-world flavor, the world as we perceive it is just a patchwork of concepts created by the network of words that we have.
Either way, it is alleged, you can tell what interests the members of a culture simply by examining the dictionary of their language. Nonlinguists are just entranced by this idea, as you can learn from magazine articles just about every week. Here's an absolutely typical recent example: a page devoted to a map of 19 emotions that English allegedly has no words for.
Let's take the tired old example of Schadenfreude. The idea is either (world to word) that (i) the feeling of experiencing joy at the misfortune of another person is so important for Germans that they made sure they developed a special word to name it, or (word to world) that (ii) German speakers only see Schadenfreude because they have that word, and English speakers in exactly the same contexts don't see it because they don't have the word for it (unless they manage to borrow the word Schadenfreude for it, of course, which seems to drive a coach and horses through the notion we're talking about).
Designed by Charles Kratka (1922-2007)
Donald Judd with students, 1974. Photograph: Barbara Quinn/Courtesy Judd Foundation Archives.
There's a shovel attached to the wall on the fifth floor of 101 Spring Street. "Why didn't they keep that downstairs?" asked a recent visitor.
"It's a Duchamp," the guide replied.
It's like that on every floor of the artist Donald Judd's former home and studio. There's a Stuart Davis in the baby's room and a Duchamp bottle rack up in the sleeping loft. A 1967 Frank Stella protractor series painting has pride of place on the fourth floor, used for entertaining, but a drawing by Stella hangs against an (attractively) decaying wall in the stairwell, at home with the African masks. Judd surrounded himself with design that suited his aesthetic as well as his art. The high chair is Thonet. Zigzag chairs by Gerrit Rietveld pulled up to his own table. Czech glassware tucked into the clever, deep well of another table. The first thing Judd saw every morning: a 1969 Dan Flavin neon sculpture, chasséing the length of the room, tubes of red and blue light framing his western view.
The exterior of 101 Spring Street, 1972. Photograph: Paul Katz/Courtesy Judd Foundation Archives.
Museum-quality art, museum-quality design, and the detritus of domestic life occupy all five floors of the former garment factory, now the only single-occupancy building in all of SoHo. After a three-year, twenty-three-million-dollar restoration process led by the New York-based Architecture Research Office, the building will open for guided tours in June, offering an opportunity to see Judd's work as he intended it to be seen, and to dwell, for an hour or so, in an individual vision of life as a work of art.
Bottle designed by Sergej Pavlin.
In the early 1950s, the father of Cockta, Mr. Emerik Zelinka, working for the Slovenijavino beverage company, created a refreshing drink made of excellent natural ingredients. He combined rosehip, vitamin C with its pleasantly tart taste, various herbs, pure spring water, and caramelized sugar. The first public promotion of Cockta took place on 8 March 1953 at the Planica ski jumping events, where visitors were greeted in every comer by a poster of a little girl drinking Cockta. The rounded quarter liter bottle, filled with a brown fizzy liquid alluded to the western lifestyle. In the same year, the first million liters of Cockta were produced, the equivalent of 4.5 million bottles.
One frame from Gary Panter's illustrated history for RBMA Daily Note.
Advertisement for Leo Castelli Gallery in Avalanche 2, 1971.